January 24, 2011 in Belize, North America, Travelogue
The wind is warm and wet off of the Atlantic tonight.  Costal Belize is so different from the Guatemalan highlands, in so many ways.
We left Antigua with a bet on the table this morning: The tourism office said, "6 hours to Puerto Barrios."  I laughed and bet Phil a drink that it wouldn't be anywhere CLOSE.  We pulled out at 9:07 a.m. and he watched his clock all day long.
One of the perks of traveling with a crowd is that the public collectivo becomes privado and we whisked across the country in comfort.  It only took 5 hours and 45 minutes.  Phil was gloating when we unloaded on the embarcadero.
It's an hour long, fast moving boat ride from Puerto Barrios, Guatemala to Punta Gorda, Belize.  We weren't able to negotiate it any cheaper than 25 USD per person, which seemed steep, but there aren't a lot of other options.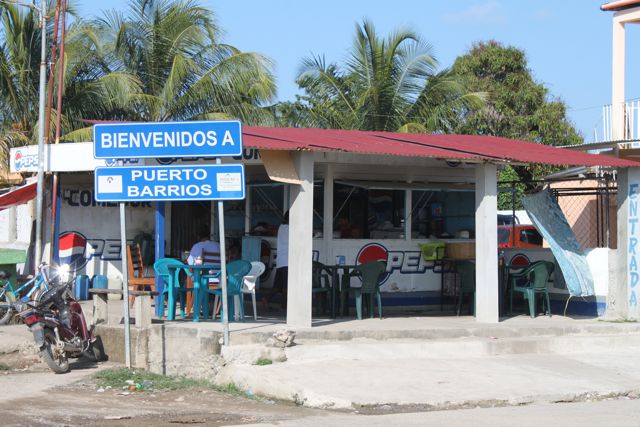 So, we stamped out, paid the Guatemalan exit tax and enjoyed the ride.  Well, as much as one can enjoy a bottom punishing hour long journey over three foot waves.  It was a lot like a roller coaster, so much so that the kids held their hands over their heads and screamed.
The stars are peeking out from behind the clouds and smiling at us and the ocean is whispering that it's time for bed.  I'm perched on the outdoor steps of the hostel writing by moonlight. All ten of us are bunked in one big dorm room.  "One more slumber party!" Ruthie announced with glee.  We've found the ATM, updated telephone SIM cards, purchased the necessaries and a loaf of bread with jam to donate to a homeless guy.
Dinner included the signature Belizian beans and rice, which tastes like home after ten months away.
Tomorrow Miss Hannah blasts off with her friends for a week of backpacking without us.  Turns out she could have passed through the border alone with no trouble, but better safe than sorry. This is her first major solo adventure and she's fairly glowing.
The boys are beyond excited to be returning to Tobacco Caye with hopes for much fishing and snorkeling; there's nowhere else we'd rather be spending our week of vacation.
What makes THIS vacation, as opposed to the lago, you ask?  My definition of vacation: When I don't have to cook.  Lana is the best cook I've EVER met and a week in her guest house is the BEST kind of vacation.  If you have the time this week, come join us.!