September 3, 2012 in Asia, Thailand, Travelogue

One of the things that we love about traveling slowly is that we have time.
Time to work. Time to rest. Time to learn. Time to dig deep. Time to see small things that we would have to overlook if we were moving faster.
Nai Yang is beginning to feel like home.
We noticed that when we came home from our 3 week tour home from Hanoi. When we go to the market, people know us. When we go to the beach, the touts don't bother us. When we need to rent a car, the lady who runs the shop knows just which one we want and gives us the local discount (or at least the local-foreigner discount!)
This weekend we had lovely local adventures:
We went to Super Cheap
We saw a movie (those are super cheap here too!)
We rented a car and drove down into Phuket town for dinner
And we spent a few hours hanging around waiting for the Por Tor Festival to get underway.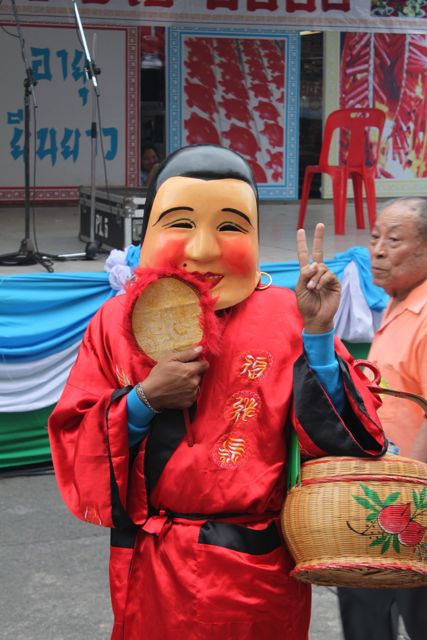 What is the Phor Tor Festival, you ask?
Great question! One we asked as well, and then, a lovely lady appeared, dressed in red silk and handed us the answer in the form of a flier all written in Thai, but for one paragraph:
"The Phor Tor Festival, or Hungry Ghost Festival is held on the 1st day of the waxing moon in the 7th Chinese month, or in the 9th Thai month. This festival features praying to ancestors and spirits and by making offerings. After worshipping, the paper burning ritual will start, signifying the journey cost to those spirits. The highlight is a red turtle-shaped Chinese sweet, "Ang-Ku" made of wheat flour and sugar to form dough in different sizes, meaning long life."
That explained the red turtle cakes that the children marching in the parade were carrying, and the enormous turtle cakes, as big as the back of pick up trucks, being pulled on floats.
The lion dancers were fantastic. The long parade of beautiful Chinese girls made up with sleek black buns and bright red lips and cheeks to match their red silk gowns was stunning. The fruit and vegetable carvings were phenomenal. But the highlight was not the turtle cakes for our children.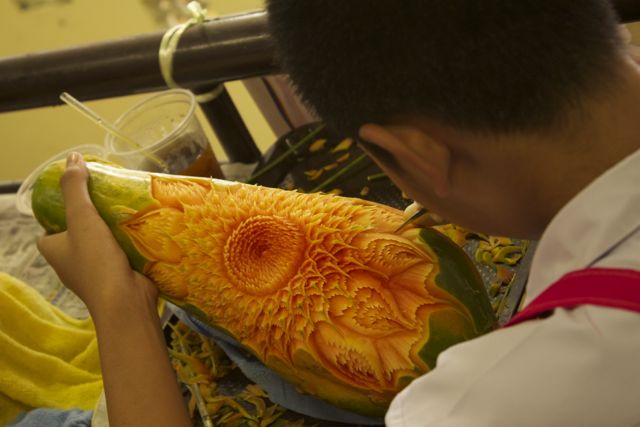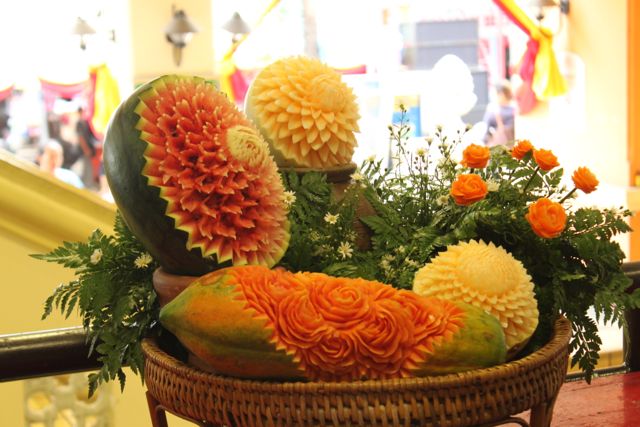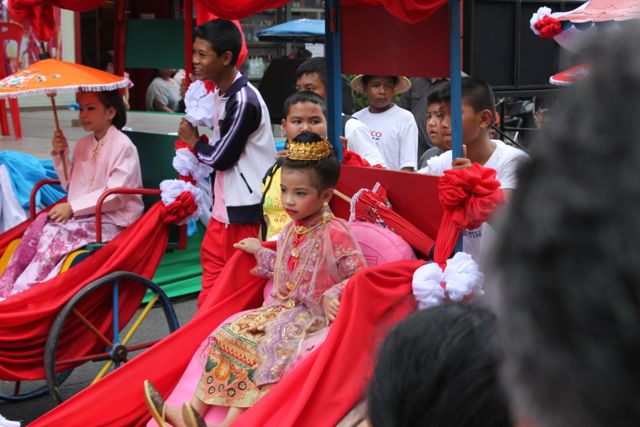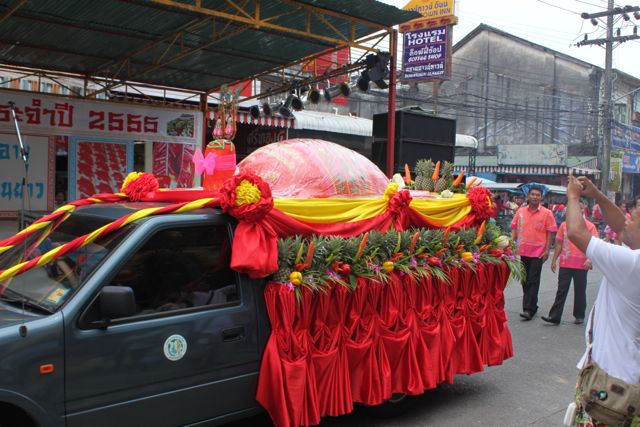 The highlight, was the biggest fire cracker explosion that our family has EVER witnessed (and we've seen a few in our travels!)
Wanna see:
The highlight for many of the local attendees was us.
There were no other Farang in attendance. It was truly a local festival. We heard no English spoken, not even in our direction. We made the TV footage being taken and were photographed numerous times by folks with big smiles and thumbs up. We laughed back and gave them our best "farang face" as a reward!
We've noticed something in our years of travel:
It takes us about three months to get our feet on the ground after a major cultural shift. We're probably slower to adjust than most.
It takes time to begin to see past the novelty of new food, new language, new topography and the million other changes. Having the time, that's the real gift of our lifestyle. Having the time to just hunker down in Nai Yang and wait; wait until Thailand isn't weird any more.
Until Asian faces don't look strange.
Until hearing English makes our heads whip around.
Until our kids just go hop into the pick up game of soccer on the beach without any trepidation.
Until the beach isn't spectacular anymore, it's just "our beach."
Until apples are a novelty and dragon fruit is old hat.
Until we happen upon the Phor Tor festival.
The time. That's the real gift.
We're now about half way through the time we've planned to be in Thailand. The car was full of conversation about where to visit next. Some kids want to make sure the diving is excellent. Others wonder where the wind will be good for kite surfing next. One suggested Mongolia (in winter? Not likely!) Another suggested China. A house was offered in NZ during a time frame that we can't possibly make happen, unfortunately. We have nothing if not options, and the only thing that really matters is the time.
The car was also full of suggestions for things the kids hope that Mama will tuck into her backpack when she returns from the USA in a month. (Jenn's headed there, next week, for a wedding) They're hoping for Lego (cheaper at home) macaroni and cheese powder packets, a certain type of chocolate, the one smell of cream that Hannah loves, lentils (which mysteriously we cannot find here) and a long list of other tiny specific things that are "home" to us. Mama makes lists, but no promises. A full backpack is headed west with treasures from the orient and a full backpack will be headed east with American gold and Canadian gems that will be a party on both ends of the world.
Jack Johnson is playing on the iPod as we drive:
"… we've got everything we need right here, and 'everything we need' is enough…"
The truth of that seeps into our souls, no matter where we call home at the moment, no matter what fabulous things we're experiencing, no matter what we're missing from elsewhere.
We've got everything we need right here, and everything we need, is enough.
Indeed.